RIMS workshop and
4th China-Japan-Korea Conference on Numerical Mathematics
August 25—28, 2012
Piazza Omi http://www.piazza-omi.jp/
Otsu City, Shiga Prefecture
| | |
| --- | --- |
| Organizers | |
| Yuusuke Iso | |
| | |
| | (Seoul National University) |
| | (Chines Academy of Sciences) |
| Shao-Liang Zhang | (Nagoya University) |
<![if !vml]>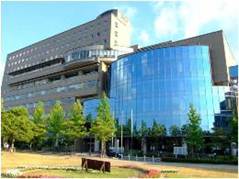 <![endif]>
Schedule:
24th Check-in. 25th, 26th, 27th---talks. 28th---talks and an excursion.
Invited Speakers:
China
Japan
Korea
Zhong-Zhi BAI
(Chinese Academy of Sciences)
Jin CHENG
(Fudan University)
Hua DAI
(Nanjing University of Aeronautics and Astronautics)
Ben-Yu GUO
(Shanghai Normal University)
Hong-Xing RUI
(Shandong University)
Zhong-Ci SHI
(Chinese Academy of Sciences)
Zhi-Jian YANG
(Wuhan University)
Hiroshi KANAYAMA
(Kyushu University)
Takashi SAKAJO
(Hokkaido University)
Tomohiro SOGABE
(Aichi Prefectural University)
Masaaki SUGIHARA
(University of Tokyo)
Hiroshi SUITO
(Okayama University)
Karel SVADLENKA
(Kanazawa University)
Nobito YAMAMOTO
(University of Electro-Communications)

Jeonghwan CHOI
(Korea University)
Youngmok JEON
(Ajou University)
Do Wan KIM
(Inha University)
Kwang-Yeon KIM
(Kangwon National University)
Seungil KIM
(Kyunghee University)
JuneYub LEE
(Ewha University)
Chunjae PARK
(Konkuk University)


How to get to the conference venue & hotel. Arrive at Osaka Kansai airport---KIX. (if do not come through KIX, ask one of the organizers) Take a JR railway to Otsu (2100 yen). There is no direct train. You must change trains at least once. After getting off the train at Otsu station, take a taxi. A five minute drive (less than 800 yen) takes you to Piazza Omi.
Points of attraction:
Hikone Castle (National treasure) A beautiful real castle in which samurais resided until 1867.
Azuchi Castle (Nobunaga Odafs castle) Nobunaga Oda was one of feudal lords in the mid-16th century. He conquered nearly a half of other lords (or daimyo) when he was assassinated by one of his men. His ambition to conquer all of Japan and to be a king of Japan was stopped by his unexpected death but you can see some of his grandeurs in this ruin of his castle. Good for hiking.
Biwako Cruise We are sorry but we do not have money for tickets. It is fun.
Mt. Hiei. This is a mountain standing between Shiga and Kyoto Prefectures. It houses Enryakuji temple (English Chinese Korean) and is considered to be a holy site. Good for hiking. Some paths are strenuous.