ICIAM Board Meeting and its companion workshop
l Workshop on Methods and Applications of Industrial and Applied Mathematics
No Charge for participation.
Dates: May 31 & June 1, 2012
Venue: Maskawa Hall (North Comprehensive Education and Research Building), Kyoto University 50m north to RIMS eduroam available
Reception: June 1, From 19:00, Kyoto Royal Hotel
Organizers: Yoshimasa Nakamura, Shin'ichi Oishi, & Hisashi Okamoto
okamoto(at)kurims.kyoto-u.ac.jp
l Officers' meeting:
Date: June 1. 2012. Time to be announced.
Venue: Maskawa-Kobayashi Seminar room (next to Maskawa Hall) eduroam available
(if you can't find Maskawa Hall in a map, please come to RIMS)
l Board meeting
June 2, 2012. From 9:00 to 18:00
Venue: Kyoto University Clock Tower, 2nd floor eduroam available
Dinner: Ganko Takasegawa Nijoen
Information:
Many speakers will stay at Best Western Hotel Kyoto
The hotel is located in the downtown in Kyoto.
Unfortunately discount rate for Best Western hotel Kyoto is no longer available.
RIMS, one of research institutes of Kyoto University, is in the North Campus of Yoshida Campus of Kyoto University and located in the east part of Kyoto City. For more information, please contact: kokusai(at)kurims.kyoto-u.ac.jp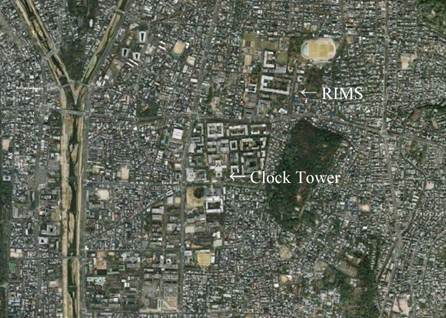 What follows are HO's collection from internet:
[1] Kyoto-Guide. http://www.kyoto.travel/
[2] You might be interested in rental kimono. Yumekyoto
[3] Kyoto Visitor's guide. http://www.kyotoguide.com/
[4] japan-guide.com
[5] Are you a gourmet? Michelin Guide
[6] Falafel Garden Yes, this is an israeli restaurant
---
From USA Today Travel.
You walk through 11 centuries of Japanese history when you walk through Kyoto. Of course, the city has been swept into the industrialized, high-tech age along with the rest of Japan--- plate-glass windows dominate central Kyoto, and parking lots have replaced traditional town houses. But magnificent temples and shrines, perfect gardens, and the pursuit of traditional arts bring to life Kyoto's rich past. It was in Kyoto that Asian influences, particularly Chinese, were most deeply assimilated, polished, and reinvented into the distinctively Japanese culture that exists today.
For more than 1,000 years, from 794 to 1868, Kyoto was Japan's capital, though at times only in name. From 794 to the end of the 12th century, the city flourished. Japan's culture started to grow independent of Chinese influences and to develop its unique characteristics. Unfortunately, the use of wood for construction, coupled with Japan's two primordial enemies, fire and earthquakes, has destroyed all the buildings from this era, except Byodo-in in Uji. The short life span of a building in the 11th century is exemplified by the Imperial Palace, which burned down 14 times in 122 years. As if natural disasters were not enough, imperial power waned in the 12th century. There followed a period of shogunal rule, but each shogun's reign was tenuous. By the 15th century civil wars tore the country apart. Many of Kyoto's buildings were destroyed or looted.
Not until the end of the 16th century, when Japan was brought together by the might of Nobunaga Oda and Hideyoshi Toyotomi, did Japan settle down. This period was soon followed by the usurpation of power by Ieyasu Tokugawa, founder of the Tokugawa shogunate, which lasted for the next 264 years. Tokugawa moved the political center of the country to Edo, present-day Tokyo. Kyoto did remain the imperial capital---the emperor being little more than a figurehead---and the first three Tokugawa shoguns paid homage to it by restoring old temples and building new villas. In the first half of the 17th century, this was yet another show of Tokugawa power. Much of what you see in Kyoto today dates from this period.
But such was Kyoto's decline in the 17th and 18th centuries that when the power of the government was returned from the shoguns to the emperor, he moved his capital and imperial court to Edo, renaming it Tokyo. Though that move may have pained Kyoto residents, it actually saved the city from destruction. While most major cities in Japan were bombed flat in World War II, Kyoto survived. And where old quarters of Tokyo have been replaced with characterless modern buildings---a fate that Kyoto has shared in part---much of the city's wooden architecture of the past still stands.