Overview
Since its foundation, as the largest center of international joint research in the fields of mathematics and mathematical science in Japan, RIMS has placed an emphasis on inviting researchers from abroad. Indeed, an important aim of its activities as an international joint research center is to promote exchanges between international and Japanese researchers, especially young Japanese researchers. RIMS invites and accepts researchers in the fields of mathematics and the mathematical sciences from universities and research institutes abroad, as visiting professors or guest scholars of Kyoto University, or short-term visiting researchers. It also actively accepts foreign students to promote research exchange and the development of researchers.
Visiting Professors
As part of a major divisional change in April 1999, the position of overseas visiting professor was provided within each of the three major research divisions of RIMS. Researchers from each field of mathematical science invited from overseas stay for an extended duration through the year and conduct joint research with domestic researchers.
Distinguished Visiting Professors
As part of the efforts for assisting the Top Global University Project at Kyoto University, professors with leading international reputations, including Fields Medal winners, are received as distinguished visiting professors. They conduct research and teach students with the staff of Kyoto University, as well as participate in a wide range of education including special lectures.
RIMS as an international joint research center
As the largest center of international joint research in the field of mathematical science in Japan, prominent researchers from overseas come to stay at this institute. It serves as a place for domestic and overseas researchers to conduct collaborative research. Its activities have earned international acclaim, including a comment in the Notice of the AMS, 2004, "RIMS, an Institute for Japan and the World."
Specific activities include receiving researchers of mathematical science from overseas universities and research institutions as visiting professors or guest scholars, guest research associates, or short-stay visiting research scholars. These guest scholars stay for around a week to half a year and are received in various forms. Three hundred or more researchers are received every year, including overseas researchers coming to conduct joint usage research. The institute also actively accepts international students.
Inviting overseas researchers is expected to promote interactions with domestic researchers through international joint research. There is systematic coordination of the stays of overseas researchers with joint usage research such as international symposiums (held around 10 times every year as part of a joint usage research project) in which many overseas researchers participate. RIMS aims at promoting RIMS Research Projects for international joint research and encourages international applications for joint research activities. Furthermore, RIMS is committed to supporting young researchers in pursuing international joint research.

Academic Exchange Agreements
As part of the activities of the center of international research, the following academic exchange agreements have been concluded for the purpose of promoting and developing research collaborations in the fields of mathematical science.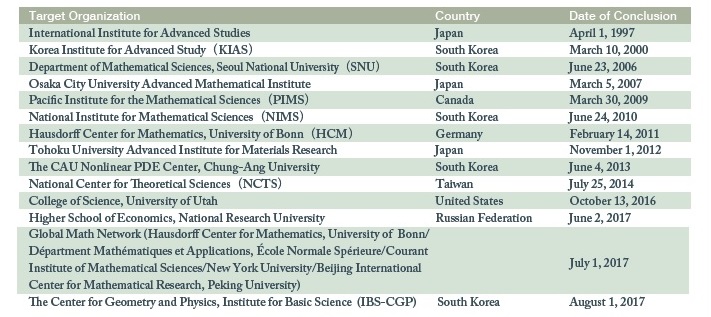 Number of Visitors from Overseas